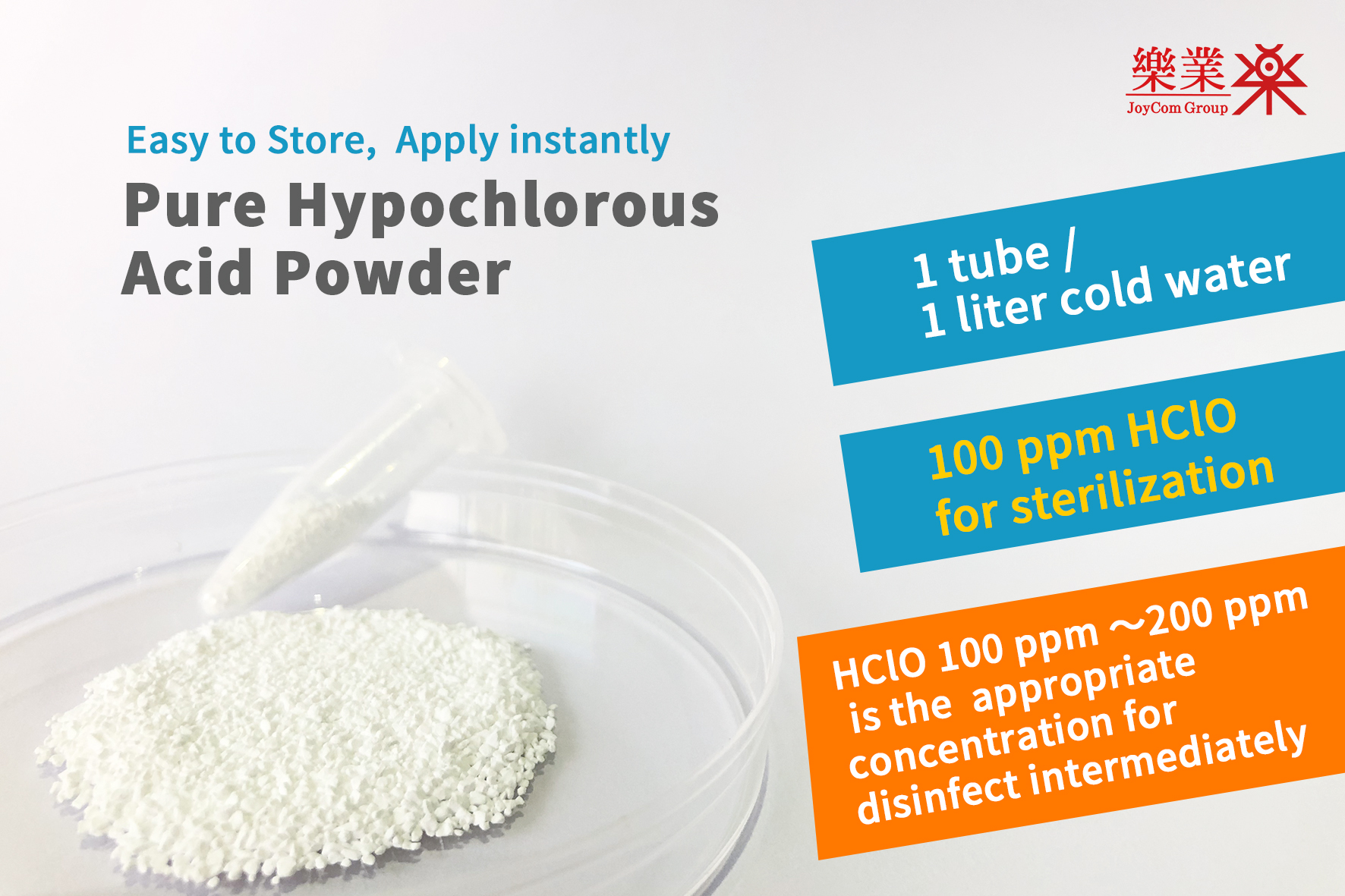 JoyCom Group® Pure Hypochlorous Acid Powder (HAP)
Portable!Storage easily!
Only one step, drop HAP into the 1 liter cool-water and you will get the fresh 100 ppm HOCls.
To disinfect exactly, the fresh HOCls be applied in 3 months ASAP, please.

Note:
Keeping HAP in cool, dry and dark.

Please store HOCls in the opaque HDPE or PP container.

For external use only.
How to prevent COVID-19 in daily life?

You can reduce the risks of being infected or spreading COVID-19 by using disinfectants such as Alcohol , Bleach or Hypochlorous acid. But do you know the differences between Alcohol , Bleach and Hypochlorous acid ?



Bleach, NaClO, Basic pH > 7


Avoid skin contact due to its irritation.
Smelly chlorine odor.

Hyprochlorous acid solution (HOCls), weak acid pH < 7
HOCls has excellent disinfectant effect for anti-virus and antibacterial. It is better than Alcohol-based products, and has less damages to skin because Hyprochlorous Acid (HOCl) is also self-produced in our body. Many researches show that HOCls has therapy potentials on wound clean, anti-pruritus (itch), deodorant and disinfectant on surgery or chronic wound.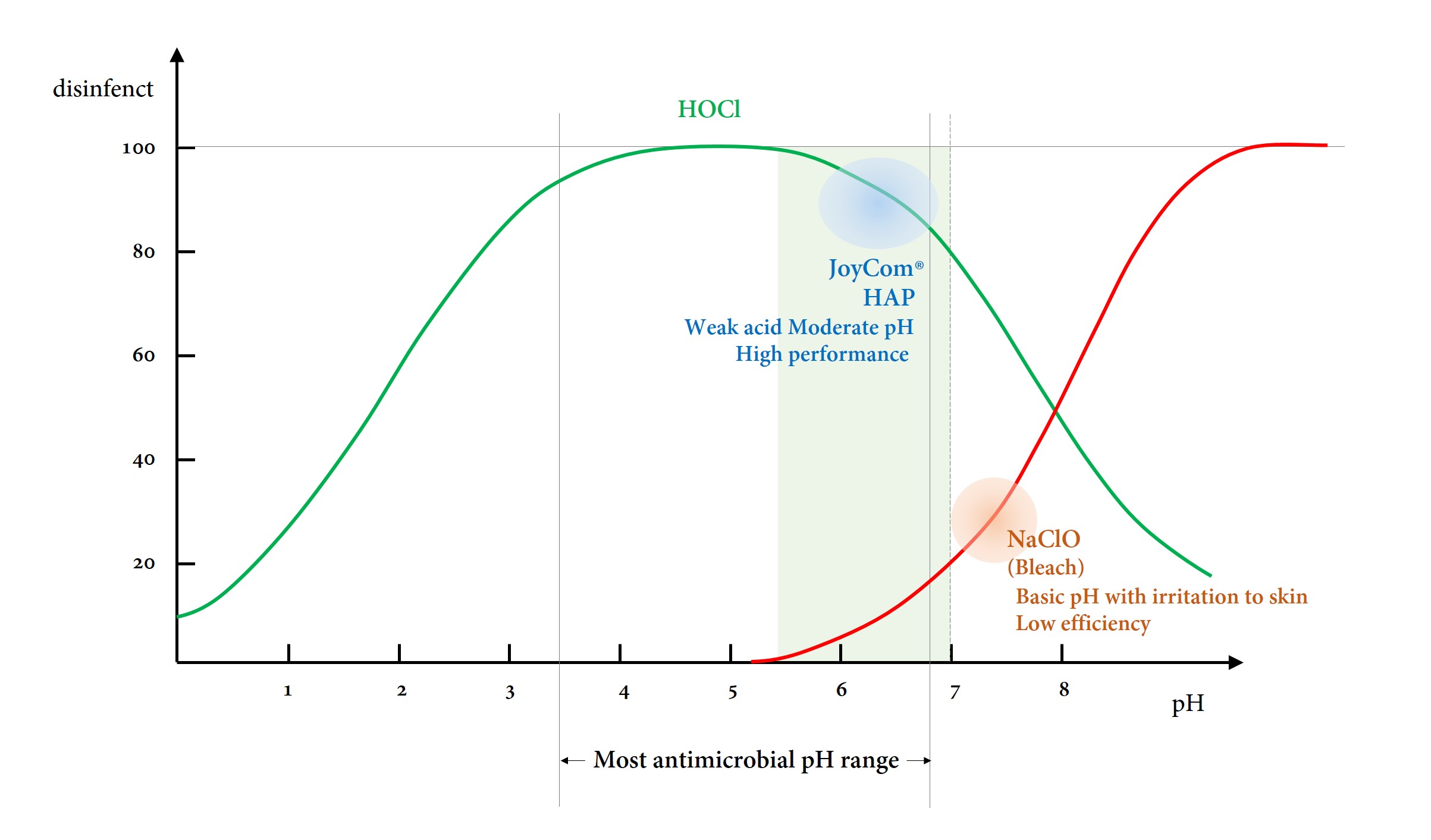 Althourgh HOCls is so powerful, when you apply it, you must obey the following advice.
Attention! HOCls ≠ NaClO ( Bleach)

Proper working concentration : 100 ~ 200 ppm for instant disinfect (within 1 min)

Avoid storing the HOCls made by electrolyzed because of the risk of toxic chlorine gas regeneration.

Correct pH value! Improper condition (pH >7) is not only invalid on disinfect but also harmful for human.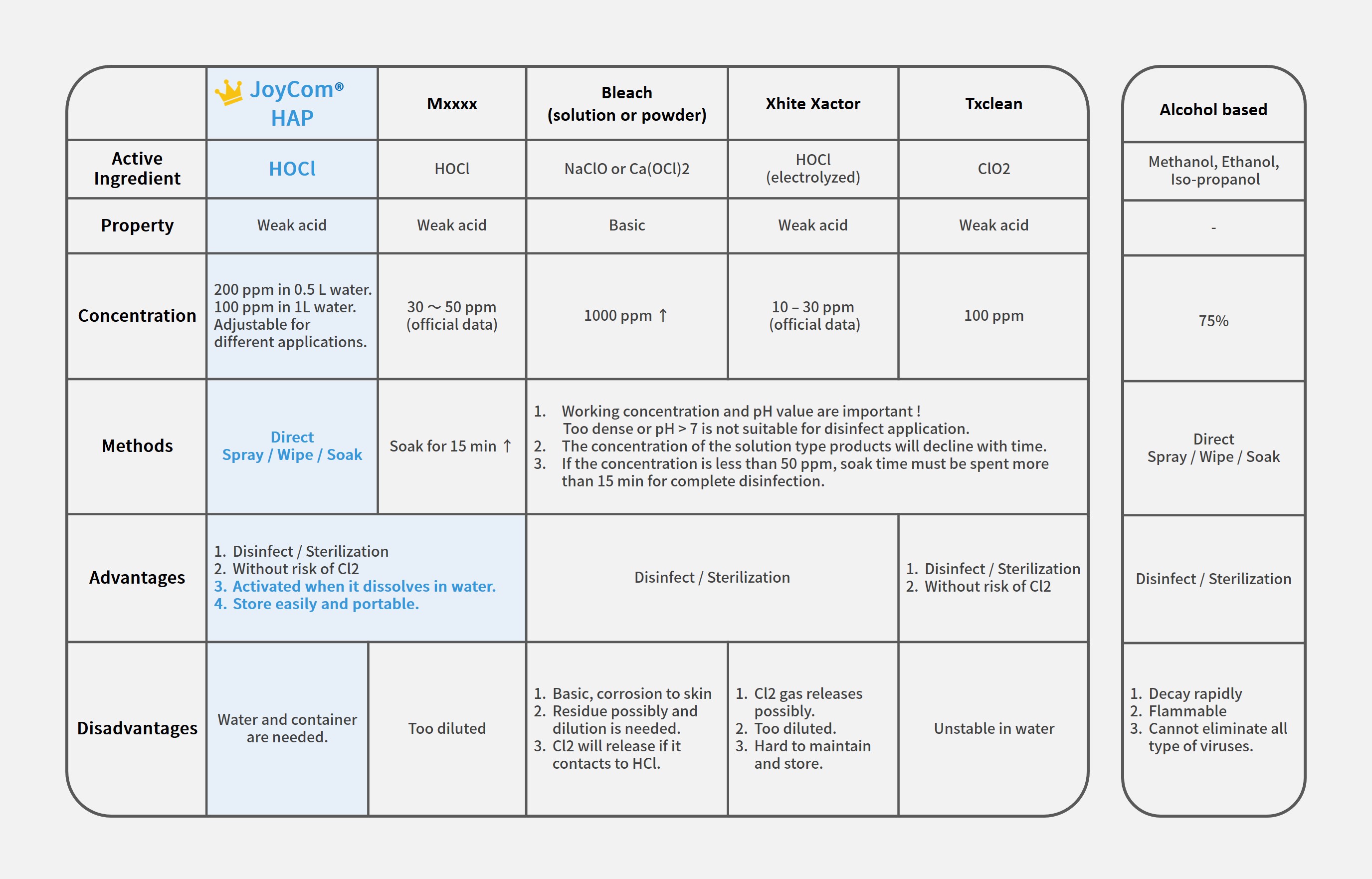 References:
Hypochlorous Acid as a Potential Wound Care Agent., JOURNAL OF BURNS AND WOUNDS, 2007
Hypochlorous Acid: An Ideal Wound Care Agent With Powerful Microbicidal, Antibiofilm, and Wound Healing Potency, WOUNDS, 2014; 26(12):342-350.
Topical stabilized hypochlorous acid: The future gold standard for wound care and scar management in dermatologic and plastic surgery procedures. J Cosmet Dermatol. 2020;00:1–8.
Topical Hypochlorous Acid (HOCl) as a Potential Treatment of Pruritus. Curr Derm Rep, (2013) 2:181–190.
Evaluation of sprayed hypochlorous acid solutions for their virucidal activity against avian influenza virus through in vitro experiments. J. Vet. Med. Sci. 77(2): 211–215, 2015.
0.01% Hypochlorous Acid as an Alternative Skin Antiseptic: An In Vitro Comparison., Dermatol Surg, 2018; 44:1489–1493.
Hypochlorous acid gel technology—Its impact on postprocedure treatment and scar prevention. J Cosmet Dermatol. 2017; 1–6.
Hypochlorous acid is anti-pruritic and anti-inflammatory in a mouse model of atopic dermatitis. Clin exp allergy, Jan;48(1):78-88.